Copyright 2013 Richard W. Bushey


Will I buy your piano? Possibly!

Currently, I have a very small shop and only have room to work on a couple at a time. From time to time I will consider purchasing a piano to fix up, but for the most part, I just don't have the shop/storage room to purchase pianos right now.

If your piano is in good shape at a good price, feel free to contact me and I'll see if I have the space. If I don't, sometimes I know of someone who may be looking for a piano to purchase, so it never hurts to ask.


RENTAL DETAILS: Renting a piano is the least expensive way to get a piano into your home. This is especially helpful, for example, if you have a student taking lessons but aren't sure if they will stick with it.

Initial cost to begin a rental agreement would include:

first months rental fee, two months rental fee as a security deposit, plus round trip moving charges.



For example: for a piano that has a $40/mo. rental fee, in local area (Springfield area), with less than 3 steps move will be --

$40 (Rental fee) + $80 (Security deposit) + $250 (Round trip moving fee). Initial Rental Cost Total is $370 plus tax.

You are only obligated to rent for a minimum of six months

. After that you can return the piano anytime.

Note: In addition to the rental fee, you will be responsible to have the piano tuned at least once/year by Richard's Piano Service. Regular tuning rates apply. I will cover any normal maintenance issues or minor repairs that may be needed so long as it is not as a result of neglect, misuse, or abuse of the piano.

I also offer the option to rent to own within the 1st year. So, during the first year you will automatically get credit for all of your rental payments up to that point which can be applied toward the full purchase price of the piano. Example: If you rent a piano for 8 months and decide you would like to keep it, then everything you've paid up to this point (except the portion of the moving fee to move it to your house) will be put toward the purchase price of the piano. (On a $40/mo rental, that means $460 will go toward purchase price). However, if AFTER a year, you decide to keep the piano, then all rental fees paid up to that point will NOT go toward purchase price, and the piano would have to be purchased at full price at that time. Therefore, if you think you might keep the piano, it would be in your best interest to make that decision within the first year. You, of course, have the option to continue renting as long as you'd like.





Conveniently Pay Here for Piano Services Rendered!

Pre-pay for Piano Services as a gift for a friend!


1) Use the Buy Now button to pay any amount through Paypal to Richard's Piano Service.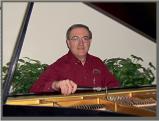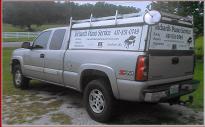 Discounted rates for 2 - 4 prescheduled/prepaid tunings per year
Locally Licensed
and Insured

Associate Member of the
Piano Technician's Guild


Wurlitzer Spinet - (Described above for sale)
Richard W. Bushey - Piano Tuner/Technician
1694 N. State Hwy 125, Strafford, Mo. 65757


(417) 831-0749 or (573) 528-9847 cell
For Sale:

Baldwin Acrosonic Spinet (price not determined)
- Nice looking piano and bench.
- I am currently reconditioning the action.
- Should be ready for sale in a few weeks.
- Price not determined. I just acquired this piano and haven't
had a chance to thoroughly look it over yet.

Baldwin Acrosonic Spinet $400 + tax (as-is) or $750 + tax with
action reconditioned and cleaned/lubed. (prices include local
move)
- Great starter piano. Some minor cosmetic issues - ie:
mismatched music rack (original music rack was lost by moving
company some years ago. Replacement works well, but doesn't
match well).
- Plays well.
- Bass strings a little tubby sounding. I MAY be able to improve
their tone a bit by removing some of the dirt from between the
string windings. Would try to improve bass string tone during
reconditioning, but not included if sold as-is.
- Bench has permanant home made embroidered cover.
- Piano has not been reconditioned yet. Will sell as-is for
$400 + tax OR $750 + tax reconditioned and cleaned/lubed.

Wurlitzer Spinet $650 + tax (price includes local move) OR for rent
(see details below)
- Great starter instrument if looks aren't that important.
- Dark walnut, case a bit rough looking, but plays wonderfully.
- Key lips (keytop overhangs) were badly chipped when I got it.
Key lips have all been filed flush creating a "waterfall" type look.
- Tunes well. Has nice tone throughout.
- Action has been reconditioned (hammers shaped, action lubed,
any real worn parts replaced, etc).

I have just recently moved from Waynesville to Strafford, Mo. and the latter two of these pianos are still at my Waynesville shop. I will be moving them here as soon as I can get my shop permits, and get my portable shop building moved here. : ) Thanks for your patience. I'll get pictures and update the descriptions as soon as I possibly can.

In the meantime, please feel free to contact me with any questions about any of these pianos.




I offer Piano Tuning
Services to these areas
in Missouri:

Strafford
Springfield
Ozark
Nixa
Marshfield
Rogersville
Republic
Branson
Ash Grove
Fair Grove
Ebenezer
Cave Spring
Walnut Grove
Pleasant Hope
Sparta

and surrounding areas.


Special arrangements can be made out of my normal service area.